"
A heck of a lot of fun... You can tell that the composers
had a good time writing these pieces...
Full of joy, pleasure, and talent.
"
—Sequenza 21
"
Sheer loveliness [to] relentless experimentalism [to] out and out zaniness... the next time someone comes up to you claiming to be able to define new music, tell him or her to listen to these recordings.
"
—New Music Box
A major project from leading new music accordionist Guy Klucevsek, out-of-print for nearly two decades, is now again available, in its most comprehensive edition yet. For his original "Polka From the Fringe" undertaking, Klucevsek commissioned over two-dozen two-steps, resulting in a varied, readily attractive collection.
The distinguished group of composers includes: Mary Ellen Childs, Anthony Coleman, Tom Cora, Guy De Bievre, Dick Connette, William Duckworth, Steve Elson, Carl Finch (of Brave Combo), Fred Frith, David Garland, Peter Garland, Daniel Goode, Rolf Groesbeck, Robin Holcomb, Phillip Johnston, Joseph Kasinskas, Aaron Jay Kernis, John King, Mary Jane Leach, David Mahler, Bobby Previte, Bill Ruyle, Elliott Sharp, Carl Stone, Lois V Vierk, William Obrecht, and Peter Zummo.
Chosen as the Best Recordings of 1992 by John Schaefer on WNYC's nationally-syndicated radio program New Sounds, the original two CDs shortly thereafter disappeared when the label went out of business.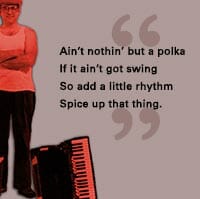 The new Starkland double-CD release offers 29 polka pieces, ranging from Sharp's punk-infused Happy Chappie Polka, Frith's humorous The Disinformation Polka, and King's slyly political song about a one-legged polka, to Finch's beautiful Prairie Dogs, Obrecht's witty Guy, Won't You Play Your Accordion, and Connette's poignant Wild Goose.
All Music Guide loved the "superb results" of the "beautifully and tightly played" music on the CDs, noting there are "several absolute classics."
"
The composers represented the most beautifully idiosyncratic nooks and crannies of Uptown and Downtown New Music, jazz, rock, and improvisation: more than two dozen individual and diverse visions united under Guy Klucevsek's polka freak-flag.
"
—Elliott Sharp
About Guy Klucevsek
Guy Klucevsek is one of the world's most versatile and highly-respected accordionists. He has performed and/or recorded with Laurie Anderson, Bang On a Can, Brave Combo, Anthony Braxton, Anthony Coleman, Dave Douglas, Bill Frisell, Rahim al Haj, Robin Holcomb, Kepa Junkera, the Kronos Quartet, Natalie Merchant, Present Music, Relâche, Zeitgeist, and John Zorn.
Klucevsek has redefined the status of the accordion in new music. As a "rebel with an accordion," he "combines poker-faced wit and imagination with command of his instrument, forcing you to re-think the accordion's limitations" (Downbeat). He is "a remarkable performer on a remarkable instrument" (Village Voice), and the uninitiated must "forget everything you thought you knew about the accordion" (The Seattle Weekly).
Performances include the Ten Days on the Island Festival (Tasmania), the Adelaide Festival (Australia), the Berlin Jazz Festival, Lincoln Center, Spoleto Festival/USA, BAM Next Wave Festival, Vienna International Accordion Festival, and the children's television show "Mr. Rogers' Neighborhood." In 1996, he founded composer/accordionist ensemble Accordion Tribe. They toured internationally from 1996-2009, are the subjects of Stefan Schwietert's award-winning documentary film, "Accordion Tribe: Music Travels," and released three CDs on the Intuition label.
He has premiered over 50 solo accordion pieces, including his own, as well as those he has commissioned from Mary Ellen Childs, William Duckworth, Fred Frith, Aaron Jay Kernis, Jerome Kitzke, Stephen Montague, Somei Satoh, Lois V Vierk, and John Zorn. Klucevsek has released over 20 recordings as soloist/leader on Tzadik, Winter & Winter, Innova, Starkland, Review, Intuition, CRI, and XI.
He can also be heard on John Williams's orchestral scores for the Steven Spielberg films, "The Terminal," "Munich," "Indiana Jones and the Kingdom of the Crystal Skull," and "The Adventures of Tin-Tin," and on A. R. Rahman's score for "People Like Us."