After retiring from performing in late 2018, Klucevsek wrote much of the music for this new album. Seventeen of the nineteen tracks are heard here for the first time, including the premiere of his 6-movement suite for Laurie McCants' multimedia Industrious Angels.
These recordings feature such stellar musicians as pianist Jenny Lin and violinist Todd Reynolds. The music varies from the simple, deeply moving Dear Werner and the hauntingly spare melody of How Slow the Whistle Sang to the wildly raucous clanging of a toy piano in "A Little Madness in the Spring" and the powerful blasts, from multiple, full-throated accordions, in String of Garlands.
In this album, Klucevsek continues his tradition of writing "the world's most abnormal 'normal' music" (Village Voice), wherein instantly appealing and seemingly simple pieces surreptitiously employ unusual and imaginative arrangements.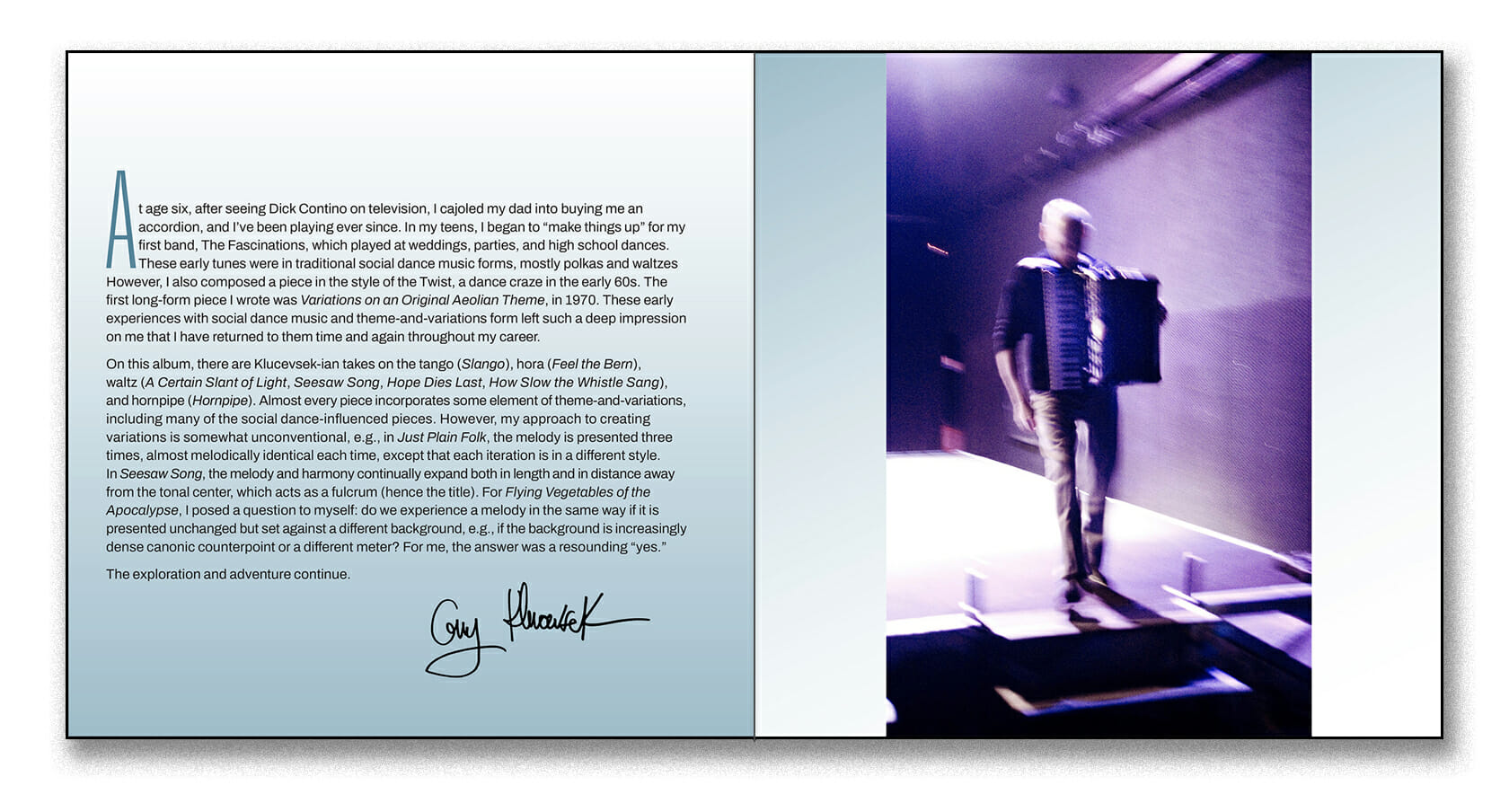 Anyone can download the release's 17-page PDF booklet, containing: a personal introduction from Klucevsek, his notes for all pieces, his bio, a complete track listing, photos, more. Buyers of this digital-only album at Bandcamp will automatically receive the PDF booklet.
Inspired by Steve Reich's Violin Phase, Klucevsek's arrangement here of Flying Vegetables of the Apocalypse first presents the melody in a 3/4 meter over an ostinato also in 3/4; the second variation has two violins in canon at an interval of three beats over an ostinato in 5/4; a third iteration has three violins in canon one beat apart over a 7/4 ostinato; all of which culminates in violinist Todd Reynolds settling into an infectious 6/8 groove.
In Slango, Klucevsek concocts an off-kilter version, in a 7/8 meter, of a tango (normally in 4/4) In Prelude No. 2, the harmonies shift ever-so-slowly over bass pedal tones, a technique that dates back to at least the 17th century music of Henry Purcell.
In Just Plain Folk, each appearance of the melody is played in a different style – first in straight 8th notes, then with a slight swing feeling, and finally, in the style of a strathsphey, characterized by the "Scotch snap," a short-long rhythmic figure. In Seesaw Song, the melody and harmony continually expand both in length and in distance away from the tonal center, which acts as a fulcrum (hence the title).
There are also Klucevsekian explorations of hora Eastern European dance music (Feel the Bern), waltz (A Certain Slant of Light, Seesaw Song, Hope Dies Last, How Slow the Whistle Sang), and hornpipe (Hornpipe).
About Guy Klucevsek
Guy Klucevsek (b. 1947) is one of the world's most versatile and highly respected accordionists. In addition to his own compositional output of over 150 works, Klucevsek has also commissioned pieces from Mary Ellen Childs, William Duckworth, Aaron Jay Kernis, Jerome Kitzke, Alvin Lucier, Stephen Montague, Somei Satoh, Lois V Vierk, and John Zorn.
Klucevsek has performed and/or recorded with Laurie Anderson, Bang On A Can, Brave Combo, Anthony Braxton, Anthony Coleman, Dave Douglas, Renée Fleming, Bill Frisell, Iraqi musician Rahim al Haj, Robin Holcomb, Japanese composer Teiji Ito, Phillip Johnston, Basque musician Kepa Junkera, the Kronos Quartet, Natalie Merchant, Pauline Oliveros, Estelle Parsons, Present Music, Relâche, and Zeitgeist. His performances have graced the Adelaide Festival, the Berlin Jazz Festival, Carnegie Hall, Lincoln Center, Spoleto Festival USA, BAM Next Wave Festival, and the children's television show, "Mr. Rogers' Neighborhood."
"A remarkable performer on a remarkable instrument" (Village Voice), Klucevsek over his long career has redefined the contemporary accordion world, and the uninitiated must "forget everything you thought you knew about the accordion"  (The Seattle Weekly).
His 1987 project, "Polka From the Fringe," a collection of polkas composed for Klucevsek by Fred Frith, Christian Marclay, David Mahler, Peter Garland, John King, Mary Jane Leach, Elliott Sharp, Bobby Previte, Carl Finch, et al., toured worldwide and was released on two CDs by EVA. This project was named "Best Recordings of 1992" on WNYC's "New Sounds."
In 1996, Klucevsek founded Accordion Tribe, an international ensemble of composer/accordionists. The ensemble toured internationally from 1996-2009, released three CDs on Intuition, and was the subject of Stefan Schwietert's award-winning documentary film, "Accordion Tribe: Music Travels."  Klucevsek has composed the scores for dance-theater pieces by Karen Bamonte, Angela Caponigro, David Dorfman, Maureen Fleming, Hellmut Gottschild, Victoria Marks, Stuart Pimsler, Claire Porter, and Sandy Silva. He has also composed for music-theater pieces by the Bloomsburg Theatre Ensemble, Ping Chong, and Dan Hurlin.
As a soloist, leader, and co-leader, Klucevsek has released over twenty-five recordings on Starkland, Tzadik, Winter & Winter, Innova, Review, Intuition, CRI, Steinway and Sons, and XI. His Starkland recording, "Transylvanian Software," was cited by Stereo Review as a "Recording of Special Merit." Klucevsek can also be heard on John Williams' orchestral scores for the Steven Spielberg films "The Terminal," "Munich," "Indiana Jones and the Kingdom of the Crystal Skull," and "The Adventures of Tintin."
In 2022, Klucevsek was honored with a 75th birthday celebration presented by Roulette in Brooklyn, and was commissioned to compose and arrange music for the international touring project "Little Amal Walks," which celebrates hope and solidarity for displaced people everywhere.
More Klucevsek at Starkland
Starkland has previously released five other Klucevsek CDs: