"
A funny, rich, and meaningful expression of this great American squeezeboxer's brilliance.
"
—Santa Barbara Independent
This Guy Klucevsek recording ranges from the highly emotional to the bizarrely witty. The CD presents the premiere recording of the profoundly intense Hymn from the Pulitzer Prize winner Aaron Jay Kernis. The composer considers the work, based on his haunting memories of visits to concentration camps, as one of "a series of works which have taken a central position in my oeuvre." Other deeply personal works are Somei Satoh's spiritually reflective Recitative (written after his stepfather's death) and Jerome Kitzke's boisterous Breath and Bone (a elegy for a good friend).
Guy Klucevsek's Bacharach arrangements move from the delightfully ridiculous to the sublimely ethereal in just a few short minutes. The performer writes that Lars Hollmer's piece has "one of the most beautiful melodies I have ever heard," while Klucevsek's own Three of a Kind offer what Starkland feels are possibly the most austerely gorgeous works yet penned by the accordionist. Add in Stephen Montague's virtuosic work and Loiv V Vierk's energetic piece (also both premiere recordings) and the result is a powerful, highly varied recording.
Stephen Montague works as a free-lance composer based in London and touring worldwide. Major commissions include works for the London Symphony Orchestra, Orchestra of St John's Smith Square, the BBC Proms, and the Bath International Festival. Montague also collaborates with sculptor Maurice Agis, creating electronic sound environments for Agis's giant inflatable sculptures "Colourspace" and "Dreamspace." He writes:
"The Furies, or Erinyes, as they were called in ancient Greek, were three fleet-footed figures in Greek and Roman mythology who pursued and punished earthly evildoers… In the same mythology, Aeolus was King of the Four Winds and viceroy of the gods. The aeolian harp, in which strings are gently played by the wind, is derived from his name. Aeolian Furies exploits the accordion's unique hurricane mechanics in a whirlwind of aeolian scales played with punishing fury. The work was commissioned by Guy Klucevsek."
Jerome Kitzke lives in New York City, but grew up along the southwestern shore of Lake Michigan in Milwaukee. Since his first work in 1970, he has thought himself to be as much a story-teller as he is a composer. Kitzke's music thrives on the spirit of driving jazz, Plains Indian song, and Beat Generation poetry. Kitzke composes for and performs with his group The Mad Coyote. His music has been performed by such organizations as the Milwaukee Symphony, the New Juilliard Ensemble, Essential Music (New York), Present Music (Milwaukee), and Earplay (San Francisco), and such artists as Margaret Leng Tan, Kathleen Supové, Michael Lowenstern, Anthony de Mare, and Dora Ohrenstein. He writes:
"Breath and Bone (1996) is a elegy written in memory of my good friend and colleague, the percussionist Gregory Charnon (1955-1995). Scored for solo accordionist/vocalist, the work is meant to honor the indomitable spirit of Gregory, whose sense of humor and courage remained on full display in the face of grave illness and death. Commissioned by and written for Guy Klucevsek, Breath and Bone was premiered by Guy on March 23, 1996 at Merkin Hall in New York City."
Somei Satoh is one of the best-known Japanese composers in the world. His works have been widely performed in the USA, Europe, and many countries in the Pacific basin, and he was commissioned by the New York Philharmonic to write a new work for a millennium message. Satoh is a largely self-taught composer of the post-war generation, whose hauntingly evocative musical language merges Japanese timbral sensibilities with 19th century Romanticism and electronic technology. He has been deeply influenced by Shintoism, the writings of the Zen Buddhist scholar DT Suzuki, and his Japanese cultural heritage, as well as the multimedia art forms of the 1960s. Satoh's elegant and passionate style convincingly integrates these diverse elements into an inimitably individual approach to contemporary Japanese music. He writes:
"In the autumn of 1990, my stepfather passed away at the age of 73. I wrote Recitative in 1991 as a prayer for the peace of his spirit in the firmament. The work is dedicated to Guy Klucevsek. My music is limited to certain elements of sound and there are many calm repetitions. There is also much prolongation of a single sound. I think silence and the prolongation of sound are the same thing in terms of space. The only difference is that there is either the presence or absence of sound. I would like it if the listener could abandon all previous conceptions of time and experience a new sense of time presented in this music as if eternal time can be lived in a single moment."
Lois V Vierk has spent most of her career in New York City, and her music has achieved an impressive international reputation.
Among the many performers and presenters who have commissioned her are Guy Klucevsek, pianists Ursula Oppens, Frederic Rzewski, Aki Takahashi, and Margaret Leng Tan, Ensemble Modern, the Bang on a Can Festival, the Lincoln Center Festival, and the Barbican Center for the Kronos Quartet. Vierk studied composition at California Institute of the Arts, as well as studing Gagaku (Japanese Court Music) for ten years. She comments:
"I wrote Blue Jets Red Sprites (1996) for Guy Klucevsek, who first introduced me to the wonders of the accordion in 1984. Guy produces the most varied colors and expressive dynamics from the instrument – deep and powerful tones, strong middle register sounds with octave doublings, high-pitched soft, fragile timbres, etc… Once I'd heard Guy's beautiful and expressive playing I was forever hooked. Blue jets and red sprites are two kinds of lightning that flare at the outer limits of the earth's atmosphere… One theory of jets and sprites states that after a strong lightening bolt there is an upward rush of electrons. As the electrons surge upward in a kind of upside down avalanche they eventually collide with nitrogen molecules. This makes them glow blue or, at higher altitudes, flash bloodred. These visual and sound ideas were the starting points for the music."
Klucevsek writes:
"Three of a Kind was composed for the dance piece, 'Span,' choreographed and danced by Bebe Miller, Susan Braham, Shelley Lasica and Sandra Parker, premiered by Guy Klucevsek and Anne DeMarinis, accordions, at Wave Hill, Bronx, NY, July, 1997. In my first meeting with the four choreographers, they showed me sketches of six duets (all the possible duo combinations of four dancers), each about a minute long. I took it as a challenge to created six short pieces, each of which would immediately establish and maintain a particular mood. Three of the pieces I eventually grouped in concert form as the boisterous and effervescent Mug Shots (heard on Dave Douglas's CD 'Charms of the Night Sky'), and the other three, a set of more introspective chorales, became Three of a Kind, performed here in an expanded solo version."
Burt Bacharach has crafted musically sophisticated pop songs since the 1950s, including over two dozen Top 10 hits. Raised in New York where he fell in love with jazz, Bacharach later studied theory and composition at the Mannes School of Music, at the Berkshire Music Center, and at the New School for Social Research with Darius Milhaud, Bohuslav Martinu, and Henry Cowell. In the late '90s Bacharach's popularity was reinvigorated, his music drawing interest from such alternative artists as Oasis, REM, Stereolab, and Eric Matthews. His 1998 critically acclaimed joint release with Elvis Costello ("Painted from Memory") earned a Grammy, the BBC has broadcast a Bacharach documentary, and Rhino Records has issued a three-disc Bacharach anthology. John Zorn's Tzadik label has released a Bacharach tribute double CD, which includes a medley of Who Gets The Guy? and This Guy's In Love With You, performed by (who else?) Guy Klucevsek. Regarding the Bacharach works on this Starkland CD, Klucevsek writes:
"I found The Blob (1958) on a tape John Zorn compiled for me which he called 'Rare Bacharach.' Bacharach wrote this tune for the horror B-movie of the same title, and it became his first hit as a composer. As an acoustic kinda guy, I was tickled pink to hear hand-clapping and mouth percussion produced the old-fashioned way – live, by human hands, fingers, and cheeks. And as a creator of some pretty dumb lyrics myself (Donut Ask, Donut Tell), I immediately got into the spirit of Mack David's words.
In 2007, Klucevsek's witty rendition of The Blob was heard in the film "Rocket Science," which won the Dramatic Directing Award at the Sundance Film Festival.
"This version of One Less Bell To Answer (1970) was inspired by the image of the bell in the title, and by the fact that I had been performing and recording John Cage's piece Dream at the time. Dream is a solo piano piece (1948) consisting of a single-line melody, played with the piano pedal down throughout, so that the melody generates its own harmony. In One Less Bell To Answer, I've used the beautiful, high, piccolo reeds of the accordion and stripped the piece down to its melody line only – devoid of the original harmonies and rhythm – and approached the notes like Gregorian chant."
Aaron Jay Kernis is one of the youngest composers ever to be awarded the Pulitzer Prize (at age 28). He started his musical studies on the violin; at age 12 he began teaching himself piano, and, in the following year, composition. He continued his studies at the San Francisco Conservatory of Music, the Manhattan School of Music, and the Yale School of Music, working with composers as diverse as John Adams, Charles Wuorinen, and Jacob Druckman. Kernis's works have been performed by such ensembles as the New York Philharmonic, Baltimore Symphony, San Francisco Symphony, and Minnesota Orchestra, and such soloists as Nadja Salerno-Sonnenberg, Sharon Isbin, Renée Fleming, and Christopher O'Riley. He writes:
"In 1991 I began a series of works which have taken a central position in my oeuvre: Aria-Lament for solo violin, Hymn for solo accordion, Colored Field for English horn and large orchestra, Still Movement with Hymn for piano quartet, and finally Lament and Prayer (which completed this series in 1995) for violin, string orchestra, oboe and percussion. Since 1990 I had become emotionally and intellectually involved with issues of war and suffering that were flaring up around the world, from the riots in Los Angeles to the Persian Gulf War and the ongoing conflicts in Bosnia-Herzegovina. Not long before, I had visited the concentration camps of Auschwitz and Birkenau, and later found myself haunted by images from them. A deepening interest in my heritage and in Judaism, surfacing from reading about the Holocaust and the more recent return of ethnic cleansing in the Balkan conflict, began to bleed heavily into the emotional and conceptual world of my compositions.

"When Guy Klucevsek asked me for a second piece for solo accordion (I had written a brief, silly polka for him in 1987), I felt it was time to write a larger and more serious work. My musical and emotional concerns called for a dirge-like mood and an organ-like texture well-suited to the accordion; I must have subconsciously recognized the appropriateness of this instrument so important in Eastern European folk music… Hymn is dedicated to Guy Klucevsek."
Lars Hollmer has been active as a musician since 1969. Some of the groups he's been involved with include Samla Mammas Manna, Zamla Mammas Manna, von Zamla, Accordion Tribe, and his own ensemble Looping Home Orchestra. He often records at his studio, the Chickenhouse. He has released over 20 recordings, on such labels as Silence, Amigo, Cuneiform, Intuition, and Krax. His CD "Andetag" won a 1999 Swedish Grammy, where it was noted: "To a giant in the Swedish musical society. From Samla Mammas Manna to Boeves Psalm to the new CD Andetag, there's always wonderful music coming from the Chickenhouse." Hollmer writes:
"Regarding Boeves Psalm, as a child my mother couldn't pronounce the name 'Morbror Edvard' (Uncle Edvard), so she chose to call him Boeve. This became so natural that he acquired the nickname for the rest of his life. He died in 1977, and at that time I found the first extracts of the tune, which I later dedicated to him. 'Psalm' means Hymn. I'm not sure how many versions of this song exist, but there are at least 15, including Guy's arrangement and an orchestral performance released on a Swedish classical label. The song seems to catch the attraction of the average person, which really pleases me."
Guy Klucevsek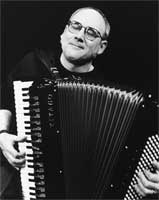 Guy Klucevsek has created a unique repertoire for accordion through his own composing and by commissioning over 50 works from leading composers. Solo performances include the Adelaide Festivals in Australia, the Berlin Jazz Festival, New Music America, Serious Fun! at Lincoln Center, Bang on a Can, and the children's television show Mr. Rogers' Neighborhood. He was an original member of Dave Douglas's band, Charms of the Night Sky, and in 1996 he formed The Accordion Tribe, an international line-up of composer / accordionists who have released two recordings and are the subjects of the Stefan Schwietert documentary film, "Accordion Tribe: Music Travels." You can also hear him on John Williams's scores for the Steven Spielberg films The Terminal and Munich.
Starkland's previous Guy Klucevsek CD Transylvanian Softwear won a "Recording of Special Merit" from Stereo Review.