Silver Medal: Creativity/Originality,
Silver Medal: Innovation in Sound
—Global Music Awards
This CD premieres ten works from David Lee Myers, the "Darwin of electromagnetic lifeforms."
The album's content spontaneously emerged from Myers' self-designed, hand-built conglomerations of elaborately interconnected sound processing devices, with no external audio input. Some call the results "sounds from the ether" (hence this album's title).
The CD's music is distinctive and enticing. We hear an hallucinatory trip to a Martian jungle; irregular bongos overlaid with frog-croaked arpeggios; a rapidly sputtering, helium-inhaling synthesizer; a demented organ, gasping for life; all concluding with the placid atmosphere of dorsal streaming, tinged with calming panpipe-like chuffing.
Myers' obsession with designing and hand-crafting his own complex equipment culminated in his Feedback Workstation (pictured at right), developed from 1987 to 1993. The exceptionally elaborate unit typifies his method of expanding the functions of off-the-rack units by tearing them apart, routing controls for each parameter of each device to a front panel potentiometer, routing the output of each device to every other device, as well as to itself, and routing all controls to his own front panel concoction of patchbays, switches, and faders.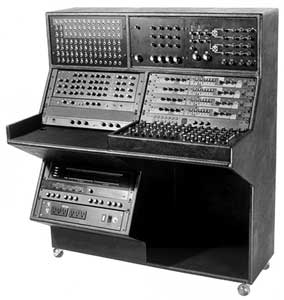 Dan Visconti writes:
"Ether Music" is hardly David Lee Myers' first foray into this brand of sonic invention, where explorations on the edge of audible electronics mirror a visionary quest into the same electronic pulse that inhabits all organic life. It's a place where advanced technical experimentation forms the perfect complement for this ancient journey through the bardos of vivid inner landscapes aglow with the fission of an illuminated world, a world that answers our inquiry and is alive in a way less like a thought than a mind.

The "Darwin of electromagnetic lifeforms" (Mark Dery), Myers has always been singular in this ability to create vast spaces, indeed ecosystems, in which chance and intentional vision all play out in a dialogue where each enriches the other. The creation of several new and original electronic systems, which led to the compositions on this disc, further cements Myers' reputation as the foremost explorer of "Feedback Music" – and to those unfamiliar with this sound artist's unique harmonization of science and magic, this beautifully realized recording serves as the best currently available introduction to the panoramic range that Myers commands.

Myers brings together worlds that have confounded generations of composers, visual artists, and philosophers – and in doing so, he plays scientist and shaman alike, presenting us with imaginary worlds that teem with life, personality, and a pure and deeply considered musicality. As a composer predominantly of acoustic chamber music, I marvel that whereas Myers' work has strayed far from the world of string quartets and pianos in which I labor, his creations nevertheless manifest a profound display of the paramount principle of classical chamber music: everything that happens is motivated by something prior, an unbroken chain of brainstorms in conversation. If Myers at times has the sonic trappings of his influences Tod Dockstader and the Beatles, his musical rhetoric has the subtlety of classicists like Haydn and Mozart. Myers shapes chance into something not quite random, and vision into something just shy of intent… This collection comes across as grandly symphonic yet also meditative and intimate.

The first recording on this disc (implicate order) begins with gradually thickening or radiant bands of sound that linger, tremble, and falter while ultimately becoming the backdrop for more rhythmic pops and hisses, expanding on a kind of drum-machine texture. The dialogue between these two layers – with each destabilizing the other – ends with a hum reminiscent of the drone in Myers' favorite "Revolver" cut, Tomorrow Never Knows.

Effervescent drops, blips, and drizzles greet the ears on rigid and fluid bodies, sweeping across the harmonic series, fusing liquid gestures with relentless ticking, rising, gliding, and darting between both adroitly, before seeming to sink from view into the deep trenches of one's inner ear.

astabilized begins with recognizable feedback without complication at first, achieving a kind of eerie home quality that could be my own amp or other device beginning to feed back. Before long, this fleeting, quotidian moment begins to stutter and argue with other layers sweeping in competing Doppler motion, taking unexpected turns before ending.

Another standout, arabic science is a meditative moment more exploratory than affirmative, singing out through liminal spaces in a kind of ecstatic glossolalia. the dynamics of particles, the poppiest offering on the disc, kicks off with an immediately catchy ostinato hook that soon croaks with quality of a vocal fry.

radial/axial is perhaps the work which most fully showcases Myers' mastery and range, and as such it's one of the most lushly symphonic selections as well. Exploring a range of timbres unsensed by most orchestrators, Myers shows us how unlikely sound sources can give voice to the symphonies within. It's a fitting calling card for the entire album: daring, aurally eloquent, and epic in scope.
Myers' previous CDs have been impressively praised. His classic "Engines of Myth" album, the first project developed under the name Arcane Device, was called "great music" by Chris Cutler, "simply superb" by Mark Dery, and "extraordinarily inventive" by The Squid's Ear. The album is dedicated to Starkland composer Tod Dockstader, "wherever you are."
Myers later released two CDs jointly composed with musique concrète master Dockstader. The BBC remarked their "Pond" recording "certainly places them in the upper echelon of electroacoustical practitioners," and The Wire wrote that their "Bijou" is "a work of great richness, a listening experience that repays any number of repeat screenings. There's so much vibrancy and exuberance to their partnership, it's almost scary."
Mastered by Grammy-winner Silas Brown, the release contains not only Myers' biography and notes on the music, but also a new essay on the history of Feedback Music as well as photos of his custom designed, hand-built hardware. The album was funded in part by the Aaron Copland Fund for Music.
About David Lee Myers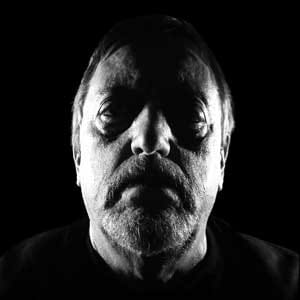 David Lee Myers is a sound and visual artist living in New York City. Beginning in 1980, under his own name as well as Arcane Device, Myers has been implementing electronic circuitry of his own construction for sound production. Since 1987 his main focus has been the use of feedback principles as the source of sound, resulting in his unique "Feedback Music" (predating so-called "no-input mixer" music by many years), wherein audio processors are fed their own outputs as well as other processors' outputs via custom built matrix mixers, allowing these devices to "sing their own songs." More recently, Myers has used modified video circuits in conjunction with these sounds for corresponding visual presentations in performance. Thirty of his recordings have been released by Generator, Recommended, Line, Silent, Pogus, RRRecords, Staalplaat, Monochrome Vision, and many other labels. He created two CDs with legendary electronic music pioneer Tod Dockstader and has collaborated with Gen Ken Montgomery, Thomas Dimuzio, Ellen Band, guitarist Marco Oppedisano, and Dirk Serries (Vidna Obmana). He has released four projects with Hamburg's master sound manipulator Asmus Tietchens. Myers has performed his sounds and visuals at New York's Generator, The Kitchen, Roulette, Experimental Media Foundation, the Knitting Factory, Clocktower, MoMA/PS1, Outpost Artists Resources, Trans Pecos, and Silent Barn, as well as at the Boston Museum of Modern art, Gallerie Abriss (Hamburg), and the Klang Avantgarde Music Festival (Copenhagen), among others.