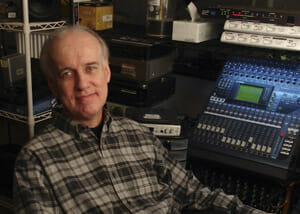 Thomas Steenland is the "one-man army" behind the Starkland record label, which he founded in 1991.
During his four decades in the record business, Tom has released dozens of albums, presenting world premiere recordings of over 190 works by more than 100 composers, including John Luther Adams, Phillip Bimstein, Martin Bresnick, Tod Dockstader, Paul Dolden, Paul Dresher, William Duckworth, Aaron Jay Kernis, Phil Kline, Guy Klucevsek, Lukas Ligeti, Keeril Makan, Ingram Marshall, Merzbow, Meredith Monk, Pauline Oliveros, Vincent Persichetti, Elliott Sharp, Carl Stone, Morton Subotnick, Iannis Xenakis, Pamela Z, and John Zorn.
Performers on his releases include the Kronos Quartet, International Contemporary Ensemble, JACK Quartet, Ethel Quartet, Todd Reynolds, Either/Or, Lisa Moore, Ashley Bathgate, Jenny Lin, and the Janáček Philharmonic Orchestra.
John Adams, Laurie Anderson, David Lang, and Meredith Monk have written liner notes for Tom's CD booklets.
His recordings have received praise in The New York Times, Gramophone Magazine, The New Yorker, Stereophile, Los Angeles Times, Billboard, Washington Post, and Boston Globe, and have been featured on NPR's All Things Considered and Weekend Edition. Tom has been called "a new music force for 40 years" (Sequenza21), and his graphic design work has been nominated for Best Album Design and Best Concert Photo at the Independent Music Awards.
---
Listen to a WKCR interview with Tom, discussing the origins
of Starkland, his 40-year history with Tod Dockstader's music, and more.
---
Tom's two most ambitious projects have focused on surround sound. For the first of these, he commissioned 13 leading-edge composers to create pieces for surround sound that premiered on his Immersion DVD-Audio. Publications such as Pro Sound News and Billboard recognized Immersion as the first such recording in history, and upon release, Immersion was often #1 bestselling DVD-A at Amazon.
For his second DVD-A project, Tom commissioned Phil Kline's hour-long Around the World in a Daze, called "an audio-visual feast that balances hipster zen with the seriousness of Bach and Wagner" by The New Yorker, "a set of sensational études" by New York Magazine, and "an electro-acoustic DVD extravaganza" by The Washington Post.
Prior to founding Starkland, Steenland served as Executive Director of Owl Recording, where he released works by Samuel Barber, William Thomas McKinley, Vincent Persichetti, George Rochberg, Morton Subotnick, Elizabeth Vercoe, Iannis Xenakis, and others, along with producing one of the first recordings of music by the Pulitzer-prize winning composer John Luther Adams.
Tom studied physics at Johns Hopkins, music theory at Goucher College, composition at the Univ. of Colorado at Boulder, and recording engineering at the Univ. of Colorado at Denver. He lives in Boulder, CO.
---
"For anyone with open ears, Starkland is essential listening."
—John Luther Adams

"For 25 years Starkland has been putting out cds and dvds of challenging and beautiful and provocative and powerful music."
—David Lang
---