"
Wild waves of high-voltage emotion and power trade off with sections of intense intimacy
"
—David Lang
This CD presents the premiere recording of Tim Brady's Symphony in 18 Parts, for solo electric guitar. The composer/performer explores a wide range of sounds, from powerful, driving, rock-imbued sections to tenderly wistful, melodic lines; from screaming, edgy distortions and dense walls of noise to pulseless, mysterious sonics and haunting atmospherics.
Brady's music has been praised as "haunting and explosive" by Gramophone, "highly recommended" by The Wire, and "exuberant" by the New York Times.
David Lang notes in the CD's Introduction, "Most of what you encounter in this piece is the immense range of Brady's imagination of what an electric guitar can do. Wild waves of high-voltage emotion and power trade off with sections of intense intimacy. Aggressively virtuosic tunes spin out around themselves with Zappa-like energy, while gentle, introspective moments rub shoulders with massive heavy metal walls of sound."
As a guitarist, Brady has been described as "the leading proponent of gaining acceptance of the electric guitar in new music" (Downbeat), "technically staggering" (All About Jazz), and "a true mad scientist of guitar sound, placed on Earth, it seems, to smash the barriers between high and low culture" (Hour Weekly).
Lang explains how these 18 short movements for solo electric guitar are indeed symphony-like:
"Each movement has its own world, its own unique way of proceeding, but together they are kaleidoscopic. This is a piece that is designed to feel that it can hold everything within it. That sounds symphonically ambitious to me… The architecture, the ambition, the big ideas – it turns out they are all here."
Brady describes his overview of this "symphony":
I use the word to imply the large-scale structural and emotional arc of the work… This is a symphony (the most traditional of European forms) written for solo electric guitar (the most North American of instruments). This contrast is central to my vision of musical creativity.
More Brady at Starkland
Starkland has previously released three other Tim Brady CDs:
The debut recording of the electric guitar quartet Instruments of Happiness, founded by Brady, combines elements of experimental art-rock, chamber music, electroacoustics, orchestral music, and more. Premiering two major works from Brady along with pieces from Antoine Berthiaume and Rainer Wiens, the CD received over a dozen favorable reviews, was a Philadelphia Inquirer Classical Pick, and landed on several Best-of-the-Year lists.
"Music for Large Ensemble" presents the premiere recordings of two major works from Brady. He describes the highly energetic Désir: concerto for electric guitar and large chamber ensemble as "a marriage of the power and personality of the electric guitar with the subtlety and flexibility of top-flight classical performers." This CD also premieres the intensely harrowing, yet poignant Eight Songs about: Symphony #7, in which Brady focuses on the Leningrad premiere of Dmitri Shostakovich's Symphony No. 7 on August 9th, 1942. Allan Kozinn writes, "As a composer, Brady is entirely of his time, which is to say, eclectically rooted in the full range of modern styles, from neo-Romanticism to experimentalism and Minimalism [as well as] art-rock."
"The Happiness Handbook" presents the premiere recordings of works from Scott Godin, Tim Brady, Jordan Nobles, Maxime McKinley, Gordon Fitzell, and Emily Hall, all performed by the virtuosic electric-guitar quartet Instruments of Happiness. "A wonderful album" that is "Highly Recommended!" (Avant Music News).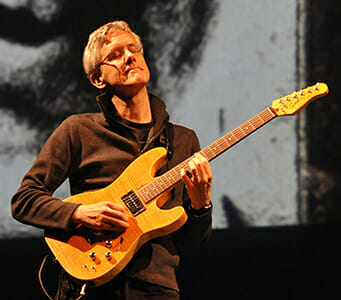 Tim Brady is a Canadian composer, electric guitarist, improvising musician, and concert producer. Working in the field of contemporary classical music, experimental music, and musique actuelle, he composes in a variety of styles from serialism to minimalism. Using the guitar as orchestra, he creates music merging contemporary classical, jazz, rock, and electronics.
Over several decades, Brady has toured the world, both as a soloist and with his groups Bradyworks and the guitar collective Instruments of Happiness. He has performed at many major festivals and venues, including the Montreal International Jazz Festival, Festival Présence in Paris, The South Bank Centre in London, the Bang on a Can Marathon in New York, REDCAT in Los Angeles, and in 2010 he was the featured composer at the Winnipeg Symphony's International New Music Festival.  In 2004 Brady won the Prix Opus "Composer of the Year" prize, given by the Conseil québécois de la musique. In 2007 he received the Jan V. Matejcek award by SOCAN. His CD "Atacama: Symphony #3" was named "Création de l'année" for 2012 at the Prix Opus and was also nominated for a Juno in 2014.
After thirty albums, four operas, nine symphonies, and dozens of tours, Brady's music continues to engage listeners around the world.