"
Mr. Kline, the electronic experimenter who deploys fleets of boomboxes to achieve his preferred textures, is hard at work.
"
—The New York Times
"
This adventurous music... ranges widely from ambient recordings that are surprisingly musical, to complex constructions that emerge as lyrical... The accompanying DVD offers... a fascinating interview with Kline.
"
—Stereophile
"
A set of sensational études.
"
—New York Magazine
"
Imaginary vistas that envelope, even overwhelm... Our always adventuresome friends at Starkland have outdone themselves this time.
"
—Sequenza21
"
Congratulations to Starkland for releasing this extraordinary and well-documented release.
"
—Vital Weekly
"
Very noteworthy... an electro-acoustic DVD extravaganza.
"
—The Washington Post
"
The Starkland label has a treat for you. There's plenty to enjoy in this piece for your standard audio consumer, but for the audiophiles in the crowd, the real fun is in sitting immersed in this mash up of street noise, music clips, music boxes, bug zappers, and many other bits of sonic detritus.
"
—Molly Sheridan, New Music Box
Leading new music composer Phil Kline debuts a major work, Around the World in a Daze, on a new surround sound DVD released by Starkland.
The 65-minute studio composition was commissioned by Starkland specifically for high-resolution surround sound and to premiere on DVD.
Video: John Schaefer interviews Phil Kline about his interest in using sound in space.
Daze opens with the multi-channel ambiance near Kline's home in New York City's lower East Side, begins a "long journey" performed by the string band Ethel, peaks with a massive climax of hundreds of thousands of "falling pennies" that dramatically explores the psychoacoustic possibilities of surround sound, shifts to the soaring violinistics of Todd Reynolds, and concludes by placing the listener inside multiple layers of a field recording of 15,000 chattering, African gray parrots.
Along the way, listeners are also seduced by some swirling, hypersampled Wagner, a weird madrigal about bitterness and bees, a Bach prelude eerily processed into a Zurich train station, and a mournfully multi-tracked "wailingwall."
Daze is Kline's longest work and biggest commission to date. Daze is also likely the largest work so far commissioned for a high-resolution surround sound recording.
Offered in a custom-designed package, this double-DVD release adds an Extras DVD, highlighted by a 34-minute interview with Kline. The two DVDs contain a total content of 110 minutes.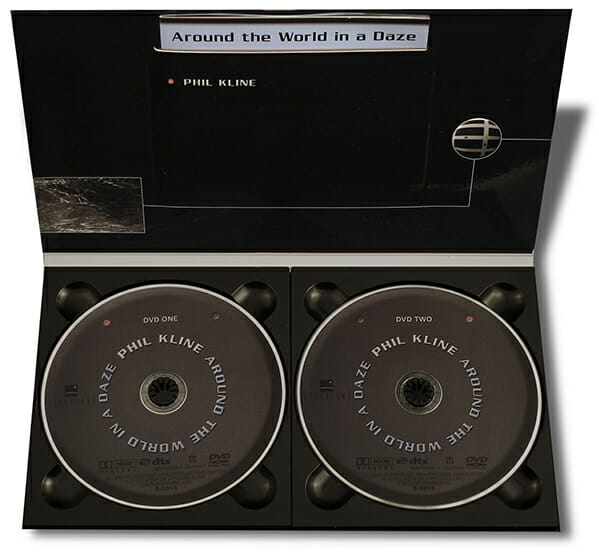 Tom Steenland, Executive Director of Starkland, initially conceived the broad project's overall goals. He states, "I love surround sound and think it's an exhilarating format for contemporary composers."
Steenland adds, "Phil Kline is a highly original, wonderful composer, and much of his music is inherently spatial." He explains, "The idea of commissioning a major work from Phil to premiere on a surround sound recording was compelling and irresistible."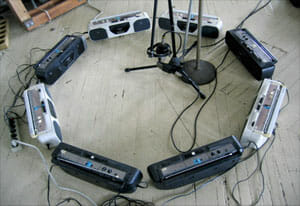 The main disc offers Daze in several formats to accommodate a variety of home playback setups. The music can be heard in the common Dolby Digital 5.1 Surround format that is standard on all DVDs, has well as the higher quality DTS 5.1 and high-resolution audiophile DVD-Audio surround formats. The DVD also offers a version in stereo.
Playback of the Daze music is accompanied by over 80 images shot by Kline.
Music
"One of this era's most fearlessly relevant composers… New music fans will salivate over this…"
– Lucid Culture
The first section of Kline's new Daze composition is the mysterious, haunting "The Housatonic at Henry Street," where the initial ambient sounds were recorded by Kline hanging microphones outside his windows overlooking a street corner in New York City's lower East Side. Back in the studio, Kline added more material. He then replayed all this through multiple boomboxes spatially deployed on that same intersection and recorded this new generation of sounds. Finally, he mixed all this "to create an imaginary landscape where past and present hang out together in asynchronous multitonal harmony."
Kline describes the lovely "Svarga Yatra" as the "beginning of a long journey." Performed by the string quartet Ethel, this effortlessly flowing piece begins to pull the listener into the full work's overall arc. Kline explains that "the members of the quartet were recorded as an ensemble and overdubbed individually, with a surrounding halo of boombox tape players echoing some of their parts."
The weirdly pensive "The Maryland Sample" contains the first vocals in the overall composition. performed by Kamala Sankaram and Kline. The composer comments that this "madrigal about love and science, bitterness and bees" is a "setting of a poem by my best teacher, David Shapiro."
Following this is the longest section of the entire work. Interviewer John Schaefer comments that the "stunning" 18-minute "Pennies from Heaven" is "in many ways is the centerpiece of Around the World in a Daze." Schaefer adds, "Here the psychoacoustic possibilities of surround sound are most tellingly explored… in the wider perspective of surround sound, the ear is able to distinguish the individual threads in what turns out to be a complex but elegant aural tapestry." He comments that the densely layered, but differentiated lines "reminded me of Conlon Nancarrow and Trimpin."
Based on a simple bell sound representing the penny. the piece builds to an astonishing, otherworldly climax, containing over 80 tracks comprising over 300 voices. Kline notes "I actually tried to calculate how many pennies we were hearing at once – it's hundreds of thousands at one point." "Pennies" probably explores surround more extensively than any other section of Daze. Kline says, "You've got to hear that one in surround."
The massive "Pennies" is followed by two shorter sections. "On the Waterfront" offers a subtly manipulated realtime recording of couple sensually enjoying themselves during a thunderstorm. Kline explains, "I folded time over itself into an altered perspective…it is reality and a little bit of origami."
The next section, "Luv U 2 Death" alters reality in a different way, via a telescoped, hyper-sampling of Wagner's famed "Liebestod" from Tristan Und Isolde, the familiar music swooping and swirling around the listener in an unsettling whirlwind.
The seventh movement of Daze is the mesmerizing "The Wailing Wall," where layer upon layer of multi-tracked vocal loops all lead to a richly mournful peak, which then slowly subsides into a distant echo in the rear speakers.
Video: Phil Kline discusses "The Wailing Wall"
"The Grand Etude For The Elevation" features violinist Todd Reynolds (originally with Ethel) in a work that reinforces the arch-like structure of Daze, recalling the earlier "Svarga Yatra" performed by Ethel. Commenting on the music's ethereal, floating climax, Kline notes in the DVD's Interview, "There's definitely a sense of building and soaring. It's as if you've gotten to the mountaintops, you're in the clouds, you're alone, now it's quiet, and you just see into the vast distance."
As the listener moves towards the end of Daze, Kline titles the penultimate section "Prelude." He begins with ancient recording a Bach prelude from The Well-Tempered Clavier, which he processes and cross-fades through a broad array of plug-ins, mixing in a background ambient recording from the Zurich train station.
The final section of Daze is the densely layered "The Housatonic at Dzanga." The core of the piece is a field recording (captured by Louis Sarno) at a famous watering hole at Dzanga, where hundreds of elephants come to drink. At dawn, a steadily increasing carpet of chattering from thousands of African gray parrots surrounds and immerses the listener. Kline was fascinated by sonic richness of this recording, which he estimates documents around 15,000 parrots. By varying the playback speed of this sampled material and compiling a thick layer of these, Kline creates a constantly evolving surround environment which beautifully echoes the opening section "The Housatonic at Henry Street."
Given the opportunity to write music for an entire DVD, Kline early on developed an overall idea for the full recording. He mentions his concept "started with the first piece that I wrote for Tom and Starkland" for the Immersion DVD. "The Housatonic at Henry Street" refers to New England's Housatonic river, which led Kline to think of the Ganges, transcendental writers, and the spatially experimental composer Charles Ives (who wrote The Housatonic at Stockbridge). He thought "Let's do a similar thing in other locations – let's take the river of life that begins at Henry Street and take it around the world."
Participants




Bringing the string quartet into the 21st century, Ethel is part chamber ensemble and part rock group, playing avant-garde classical music with healthy doses of jazz and rock-influenced material, electronics, and improvisation.
The Juilliard-trained, all-star foursome has collaborated with some of todays most exciting artists. They have recorded with pop musicians Joe Jackson, Todd Rundgren, and Rickie Lee Jones, experimental artists Dick Connette and Blue Gene Tyranny, and on film scores by Don Byron and Benny Wallace. Ethel premiered Phil Kline's The Blue Room and Other Stories in 2003.
One of today's preeminent new music fiddlers, Todd Reynolds has appeared and/or recorded with such artists as Anthony Braxton, John Cale, Yo-Yo Ma, Graham Nash, Steve Reich, Marcus Roberts, and Todd Rundgren. Reynolds has commissioned and premiered countless numbers of new works by such composers as John King, Michael Gordon, Neil Rolnick, Julia Wolfe, David Lang, Evan Ziporyn, and Randall Wolff. Reynolds was a founder of Ethel, with whom he toured internationally for its first seven years. For Todd, Phil Kline has written a series of pieces for violin and electronic environments, of which the Grand Etude for the Elevation is the latest.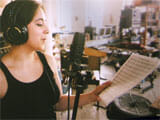 Kamala Sankaram is a singer, songwriter, and accordionista, who currently leads her own band, Squeezebox. With a repertoire ranging from the Queen of the Night to indie rock, she performed in the song cycle The Story of B, a collaboration between Kline and composer Eve Beglarian.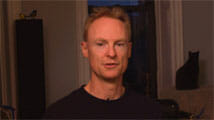 John Schaefer hosts WNYC's innovative music/talk show Soundcheck, and has produced the radio series New Sounds since 1982 ("The #1 radio show for the Global Village" – Billboard). He has written extensively about music, including the book New Sounds: A Listeners Guide to New Music.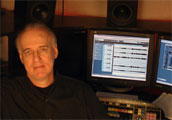 Thomas Steenland runs the alternative classical label Starkland. For over 40 years, he has produced premiere recordings of works from a wide variety of contemporary composers, including: John Luther Adams, Phillip Bimstein, Tod Dockstader, Paul Dresher, Fred Frith, Aaron Jay Kernis, Guy Klucevsek, Merzbow, Meredith Monk, Pauline Oliveros, Vincent Persichetti, George Rochberg, Morton Subotnick, Somei Satoh, Carl Stone, Iannis Xenakis, Pamela Z, and John Zorn. Steenland's releases have been praised for their music content, sound quality, graphic design, and informative liner notes. The influential Sequenza21 website writes, "Props to our amigo Tom Steenland who has been producing great avant-garde recordings on his Starkland label from Boulder for many years now."
Around the World in a Daze is one of Steenland's most ambitious projects. He mastered all the music (except one section), edited the 34-minute Phil Kline video interview, created all the graphics, and developed the custom packaging.
Background
This DVD and Starkland's major commission were inspired by Kline's work "The Housatonic at Henry Street," which was commissioned by Starkland for its Immersion DVD-Audio/Video release in 2000.
Video: Phil Kline discusses "The Housatonic at Henry Street"
Immersion is now recognized as a groundbreaking recording that let listeners experience new music in high-resolution surround sound for the first time. In addition to Kline's piece for the Immersion release, Starkland also commissioned surround sound works from Paul Dolden, Paul Dresher, Ellen Fullman, Phil Kline, Lukas Ligeti, Ingram Marshall, Merzbow, Meredith Monk, Bruce Odland, Pauline Oliveros, Maggi Payne, Carl Stone, and Pamela Z. Immersion was enthusiastically covered in a variety of distinguished publications:
"Not only a fascinating array of musical innovation but a persuasive exploration of the possibilities of surround sound… The care that went into this disc is carried through to the stylish onscreen graphics [and] the excellent printed program notes."
– Sound & Vision

"A number of 'firsts' in an exceptionally enjoyable program."
– Billboard

"Starkland's Immersion was the first DVD-A project released featuring works composed specifically for the new surround medium. The disc features 13 new music pieces from some of the world's most ambitious electroacoustic composers."
– Pro Sound News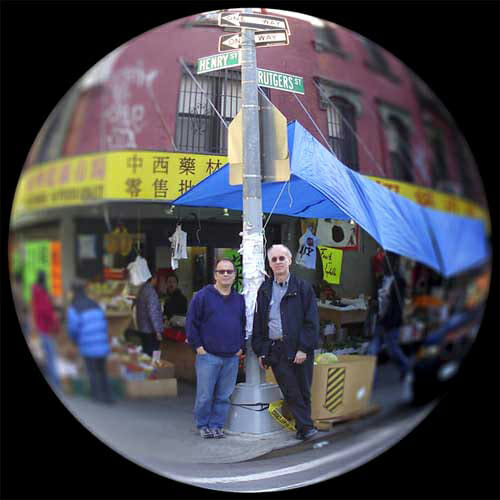 Phil Kline and Tom Steenland at the corner of Henry and Rutgers in New York
Press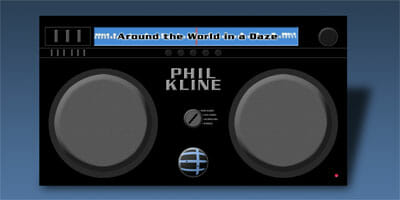 Phil Kline Around the World in a Daze
custom digipak front
Download Hi-Res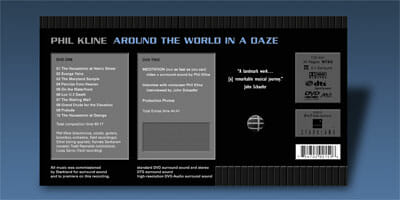 Phil Kline Around the World in a Daze
custom digipak back
Download Hi-Res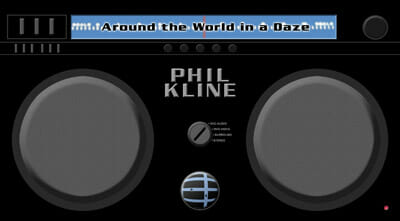 Phil Kline Around the World in a Daze
custom digipak front
Download Hi-Res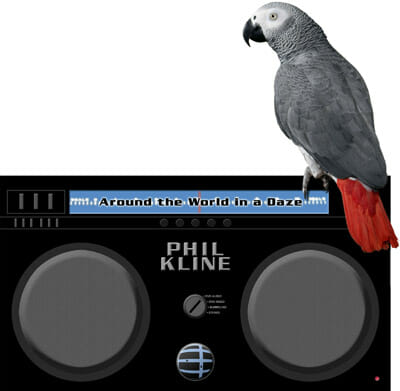 Phil Kline Around the World in a Daze
custom digipak package with African grey parrot
Download Hi-Res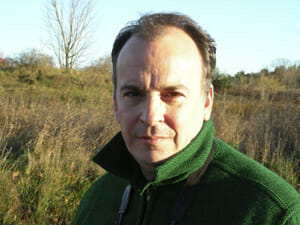 Phil Kline in the field
Download Hi-Res Color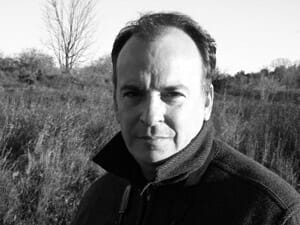 Phil Kline in the field
Download Hi-Res B&W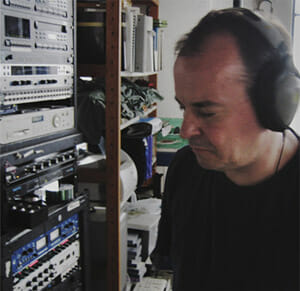 Phil Kline in the studio
for Around the World in Daze
Download Hi-Res Color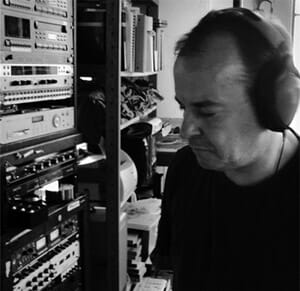 Phil Kline in the studio
for Around the World in Daze
Download Hi-Res B&W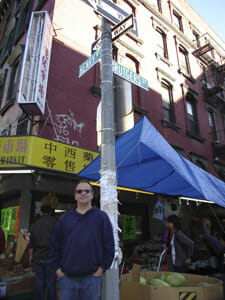 Phil Kline, corner of Henry and Rutgers
Lower East Side, New York City
Download Hi-Res Color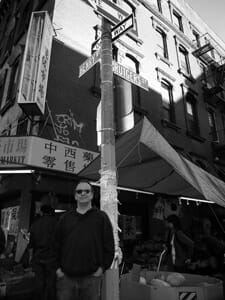 Phil Kline, corner of Henry and Rutgers
Lower East Side, New York City
Download Hi-Res B&W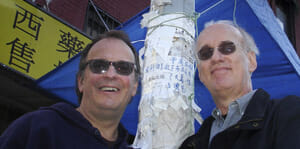 Phil Kline (L) and Tom Steenland (R)
corner of Henry and Rutgers
Lower East Side, New York City
[photo credit: Aleba Gartner]
Download Hi-Res Color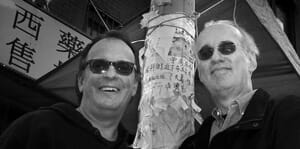 Phil Kline (L) and Tom Steenland (R)
corner of Henry and Rutgers
Lower East Side, New York City
[photo credit: Aleba Gartner]  
Download Hi-Res B&W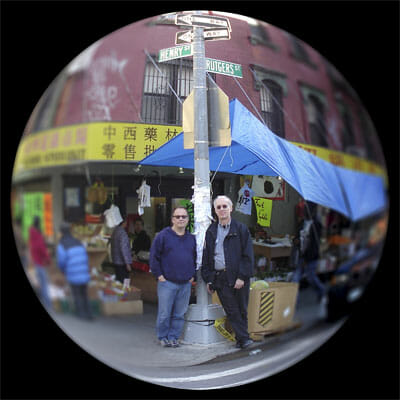 Phil Kline (L) and Tom Steenland (R)
corner of Henry and Rutgers
Lower East Side, New York City
[photo credit: Aleba Gartner]
 Download Hi-Res Color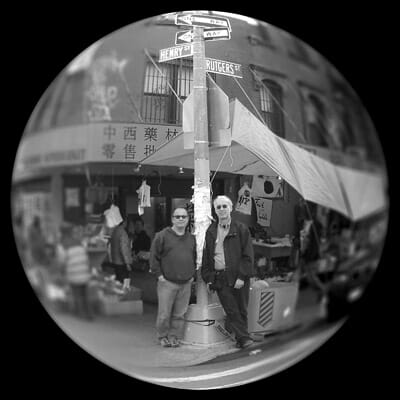 Phil Kline (L) and Tom Steenland (R)
corner of Henry and Rutgers
Lower East Side, New York City
[photo credit: Aleba Gartner]
Download Hi-Res B&W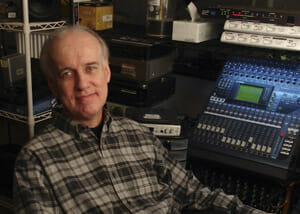 Tom Steenland, Starkland
at Full Moon West studio
[photo credit: Tasha Hanneton]
Download Hi-Res Color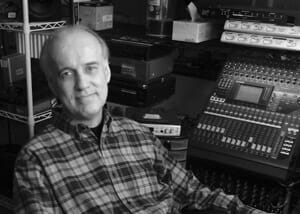 Tom Steenland, Starkland
at Full Moon West studio
[photo credit: Tasha Hanneton]
Download Hi-Res B&W
Extras
The second DVD offers over 44 minutes of Extras. Kline added the music video MEDITATION (run as fast as you can), which features both pulsing surround sound electronica and a handheld video shot by the composer. The composer comments the piece is "based on a unified camera movement" which he describes as: "You're in New York, hold the camera, and run!"
Kline's musical styles cast a wide net. They range from eerie electro-acoustical evocatons of a bygone era of honky tonks to the muted tensions between sky and earth of nomadic space with his Grand Etude for the Elevation, the moaning wraiths of The Wailing Wall, and then slide to the glissandos of Pennies From Heaven. His transitions flow as easily as a ride on a cruising Lear Jet.
– Ellen Pearlman, The Brooklyn Rail
The Extras DVD also features new music radio personality John Schaefer interviewing Kline about this commission and the final work. In Schaefer's thoughtful, probing 34 minute interview conducted in Kline's home studio, the composer discusses this major commission, thoughts on his overall concept, studio techniques, and surround sound influences ranging from performing in a rock band in a junior high gymnasium to his love for the music and spatial experiments of Charles Ives.
Finally, the Extras DVD contains a montage of related production photos, including studio shots where most of the music was performed, created, and mixed.
Schaefer also wrote the Introduction found in the 24-pg. booklet, describing Daze as a "wide-ranging, remarkable musical journey." He concludes, "what Phil Kline has done is unprecedented."
Phil Kline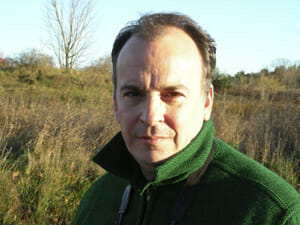 From vast boombox symphonies to chamber music and songs cycles, Phil Kline's work has been hailed for its originality and beauty. His compositions have been performed in rock clubs, art galleries, and major concert halls throughout the world.
Kline's Zippo Songs, a song cycle based on poems that American GIs inscribed on their cigarette lighters in Vietnam, was one of the most widely hailed new music CDs of 2004. In addition to receiving news coverage by CNN, NPR, The London Guardian, and many others, the CD was named "Best of the Year" by The New York Times, Newsday, and Gramophone. The New Yorker called Zippo Songs "one of the most brutally frank song cycles ever penned."
His signature boombox composition Unsilent Night debuted on the sidewalks of Greenwich Village in 1992 and is today a cult holiday tradition throughout the world. A public parade of hundreds of boomboxes carried through city streets during the Christmas season, it has been presented in cities like San Francisco, Philadelphia, Atlanta, Cleveland, San Diego, Tallahassee, and Tucson, as well as Berlin, Turin, Middlesborough (UK), Sydney (Australia), Vancouver B.C., and Whitehorse in the Yukon Territory. Jon Pareles wrote in The New York Times: "It immerses a listener in suspended wonderment, as if time itself had paused within a string of jingling sleigh bells."
A figure in the downtown New York rock scene in the 1980s, Kline founded the band the Del-Byzanteens with filmmaker Jim Jarmusch and painter James Nares, collaborated with photographer Nan Goldin on the soundtrack to her Ballad of Sexual Dependency, and toured the world as a veteran of Glenn Branca's legendary guitar ensemble.
Kline's compelling music has been heralded by leading critics:
"Magic was happening as you sat there. Here was a real original."
– Paul Griffiths, The New York Times

"Kline has graduated from 'experimental' to 'original' he's one of America's most important compositional voices."
– David Patrick Stearns, Philadelphia Inquirer

"Everything he does as Cage said of Feldman's music is just almost too beautiful."
– Kyle Gann, The Village Voice