"
Music worth hearing, and a name to remember
"
—Steve Smith, Night After Night
The first CD devoted exclusively to the music of Kotoka Suzuki, "Shimmer, Tree" presents seven works, six of which are premiere recordings. The music ranges from purely electronic to purely acoustic.
Suzuki's "personal aesthetic sense imbues her work with both surface allure and exquisite detail, resulting in subtle, but intricately-constructed structures" (John Chowning).
The title piece, for piano and electronics, is a touching tribute to Jonathan Harvey, Suzuki's teacher and mentor. Inspired by Harvey's sensitive observation of a nearby tree swaying in the breeze, the carefully assembled sounds create an elegiac atmosphere, and "the writing for piano is beautifully sonorous and virtuosic throughout" (John Chowning).
Regarding the heartbreaking Reservoir, Suzuki notes the text "is taken directly from an anonymous post on a suicide blog I stumbled across, which asked for suggestions for the best location to drown oneself and the most effective ways to do so. Several members had responded with disturbingly detailed descriptions, others with notes of encouragement." The intimately recorded, emotive countertenor vocals are counterbalanced by occasional underlying, menacing rumblings.
Commenting on Minyo, performed by the Spektral Quartet, Suzuki explains: "Minyo consists of five short movements influenced by Japanese folk music. Many of these movements were labor songs historically sung by workers such as fishermen and farmers. The rawness and authenticity of these melodies make me feel more connected to the place of my birth."
With delicately shaped sounds, In Praise of Shadows employs handmade instruments made from paper and designed by Suzuki. Inspired by a Junichiro Tanizaki essay, which describes how shadows and voids are integral to traditional Japanese aesthetics and how the widespread illumination of Edison's light affected Japanese culture, the work eulogizes our collective loss of the tangible, as modern life has become steadily alienated from the material world and pushed into an increasingly digital domain. The work received a Special Judges' Citation Award from The American Prize in the Chamber Music Composition category.
Automata (Mechanical Garden) reflects humankind's long interest in autonomous mechanical beings. In this work, automata and mechanical toys are heard in a delightful, slyly witty potpourri of rattles, squeaks, quacks, bells, and more. Automata won an Honorable Mention at Sweden's Sound Spaces 2020 festival and was heard at Berlin's Inventionen Festival using nearly 100 discrete channels for spatial sound diffusion.
The highly refined sonic palette of Epiphyllum Oxypetalum (Queen of the Night) reflects Suzuki's command of the electronic music studio. Inspired by the composer's dreams of flying through imaginary landscapes that are in turn breathtakingly beautiful and hauntingly eerie, the piece was created for 14 loudspeakers surrounding the audience.
With subdued, wavering pitches, the miniature Sagisō was composed as a retirement gift for Ingrid Beirer, the former Music Director of the DAAD Artists-in-Berlin Program. Sagisō is an orchid native to Japan that resembles a graceful white egret in flight.
The album has notes from John Chowning, best known for co-founding Stanford's CCRMA (Center for Computer Research in Music and Acoustics) and his development of FM synthesis, which served as the basis for the once-ubiquitous Synclavier and the Yamaha DX7.
The CD's minutely detailed sound results from Suzuki's immaculate, high-resolution studio recordings that were mastered by Grammy-winner Silas Brown.
Kotoka Suzuki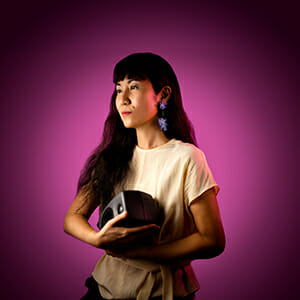 Inspired by the synthesis of technology and music, Kotoka Suzuki composes for a wide range of media, including acoustic instruments, electronics, video, dance, and multimedia, often presented spatially with multiple speakers.
Her work has been featured internationally by performers such as the Arditti String Quartet, Eighth Blackbird, Pacifica Quartet, and Continuum, and has been presented at numerous venues and by broadcasters such as Deutschland Radio, BBC Radio3, ISCM World Music Days, John Zorn's The Stone, and Germany's ZKM Media Museum.
Suzuki has received the Bourges First Prize in Multimedia (France), First Prize in the International Electro-Acoustic Musica Nova Competition (Czech Republic), and a George A. and Eliza Gardner Howard Foundation Fellowship among other awards. She has held residencies at MacDowell, Yaddo, Djerassi, and Ucross.
Born in Japan, Suzuki received her D.M.A. in composition at Stanford University, where she studied with Jonathan Harvey. She then taught at the University of Chicago and Arizona State University, and currently is an Associate Professor at the University of Toronto.